Please be aware, before progressing any further on the Pretty Rhythm: Dear My Future Wiki!, that this site may contain SPOILERS!
Featured Character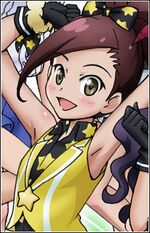 Karin Shijimi
Karin Shijimi is a girl with a candid personality and makes the people around her cheer up. Though she causes a lot of trouble for others, she is very thoughtful and selfless. She loves to move her body and holds the skill for wonderful dance. From time to time, Karin helps Mia practice her dance so they can all perform a Prism Act together. (more...)
Featured Team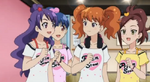 Prizmmy☆
Prizmmy☆ is the main Prism Show Team in Pretty Rhythm: Dear My Future. They are composed four members: Reina, Karin, Ayami and their leader Mia. (more...)
Featured Song
Que Sera
Que Sera (ケ・セラで; Ke・Sera) is one of MARs' image songs. This article contains lyrics. (more...).
Ad blocker interference detected!
Wikia is a free-to-use site that makes money from advertising. We have a modified experience for viewers using ad blockers

Wikia is not accessible if you've made further modifications. Remove the custom ad blocker rule(s) and the page will load as expected.